Experts in water gardening
Pond plants and advice from the experts. We have over 25 years of experience, and as a small, family-run business, we pride ourselves on giving personalised advice and support wherever possible. We want you to love your ponds as much as we do! All of our plants are grown outdoors and with care in the UK. Let us help you to take your pond to the next level and get the most out of your pond plants.
Take your gardening to a new level with our outdoor grown, pond plants
Get the most out of your pond plants with our expert advice
Articles and News
We pride ourselves on being experts in pond plants for everything from tub gardens, garden ponds, wildlife and community ponds to lakes. We can help you whether you are planting to encourage wildlife, to create a delightful garden pond or a sophisticated water garden feature, or even to control the dreaded blanket weed. We're always happy to help, so if you have a question check out our articles and news below for the latest advice, hints and tips for getting the most out of your pond.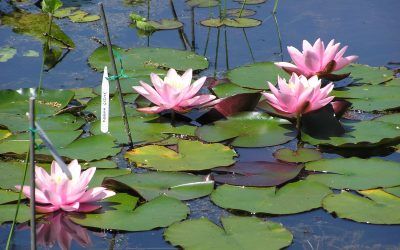 If your water lily is struggling, don't despair! We have over 40 year's experience in growing water lilies and here are our top ten tips for helping your water lilies to thrive.
read more